1 May 2021Kent Battle of Britain Museum – Special Pre Season Event
Date: 1 May 2021 - 3 May 2021
Location: Hawkinge, Kent.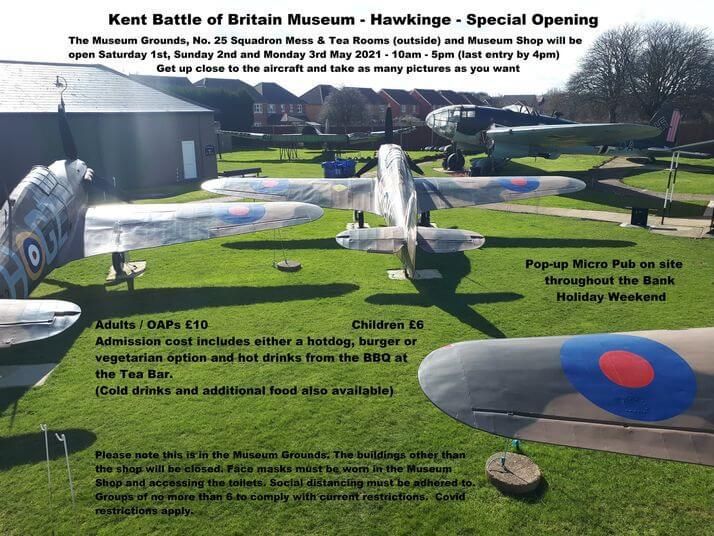 We sadly cannot reopen the Museum until Tuesday 18th May 2021, at the earliest, but we can open the Grounds, so on the May Bank Holiday (Saturday 1st, Sunday 2nd and Monday 3rd May 2021) we are opening the Museum Grounds, the No. 25 Squadron Mess and Tea Rooms are providing a BBQ, and the Museum Shop will also be open.
To make the weekend more special, you will be able to get up close to the aircraft and be able to take as many photographs as you like. We are also hoping to have a few reenactors on-site with the aircraft.
The admission cost will be: Adults / OAPs £10 and Children (15 and under) £6. This will give you access to the Museum Grounds but entitle you to either a hotdog, burger or vegetarian option from the BBQ and hot drinks during the day. Cold drinks and additional food will also be available.
We will have a 'Pop Up Micro Pub' on-site throughout the Bank Holiday Weekend too (available to paying visitors only).
Please note that this is in the Museum Grounds only. The buildings will be closed other than the shop and toilets. Face masks must be worn in the Museum Shop and accessing the toilets. Social distancing must be adhered too at all times. Groups of no more than 6 to comply with current restrictions. All Covid Restrictions apply.
We hope you will be able to join us and help the Museum raise some much-needed funds and make this event a great kick start to the 2021 Season.
The Kent Battle of Britain Museum.
---